You said it was the last time.
For the last time, taxing corporations is just another way to tax middle and lower class while counting on them to be too stupid to know it.
Okay, that entire article was about tax cuts for corporations. I guess the assumption is you take everything in that article in reverse and that's how it works for tax increases. The whole thing seemed to be focused on the immediate impact of a change in taxes, not really long term.

Most businesses run on a pretty thin margin and don't necessarily have coffers of money sitting around to pay tax increases. Even if they do, that is kind of a one time solution. Increased expense of any kind has to come from somewhere.

It could come from reduced pay to employees. I think when the debate starts around the rich paying their "fair share" people conflate it with corporations. You want to tax the rich more, fine, that's a different deal. Despite what the politicians want you to think a corporate tax increase is unlikely to come out of the pocket of the fat cat board of directors, CEO or Sr VPs. It doesn't mean the Sr VP's get one less trip to ski in Aspen on the company dime, or take a pay cut. It anything, it could come in the form of layoffs or reduced hiring to reduce payroll expense.

Or it could come from the shareholders, in the form of reduced dividends, as your article seems to digging around for. Even if this is true most shareholders are just regular people like me with my 401k, not some rich guys in NY yelling "Buy!" / "Sell!" from the phone in the back of a limo.

Or it could come from the consumer. I find this the most realistic and have seen the math first hand. If a company has greater expense, not just a one time expense, but each year for the foreseeable future, it always passes it down to the consumer. Always.

Tax those evil oil companies, watch the price of gas go up at the pump. Tax the massive conglomerate that makes tires, shoes, potato chips. Prepare for an increase in the price of tires, shoes and potato chips.

Maybe I'm missing something but where do you think increased expense of any kind, to a corporation, eventually comes from? It's got to come from somewhere.
Yes, the article was about tax cuts, not tax increases. When tax cuts are rolled back, how are they characterized? As raising taxes. So, this is relevant.
Do you have any research data to back up your claims? When I look for proof, I haven't found it. Instead, I see average pay and the price index moving up at a consistent clip, while profits fluctuate with little correlation. In fact, profits went DOWN during the pandemic and wages went up. Yes, those were special circumstances, but it backs my point that your assertions are a gross simplification.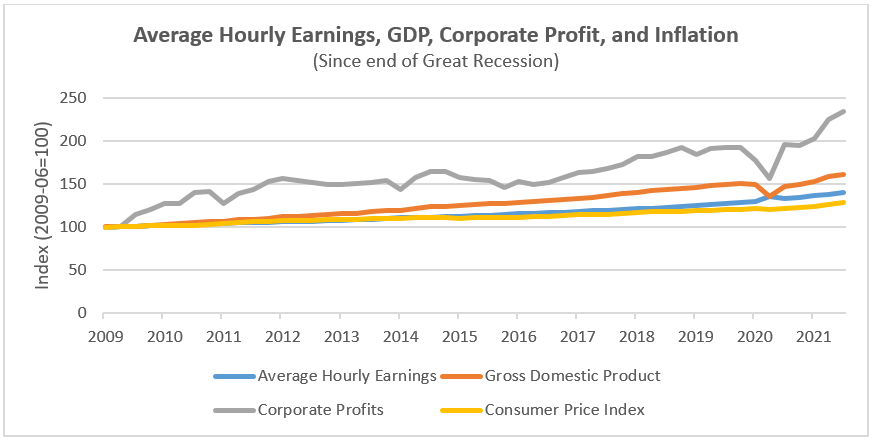 I understand profit margins. My family was in the grocery business for decades. It was a narrow margin business, as a lot of retail is. I also worked in business management consulting, where our margins were astronomical. Once again, you used a gross simplification.
One thing you don't seem to calculate into your claims is the competitive market. When companies raise their price, they risk selling fewer products. Buyers can find cheaper alternatives, or simply start buying less product. Pricing is somewhat elastic, but eventually it will break. The same goes for wages. Workers will eventually decide to find gainful employment elsewhere once an employer fails to pay competitive wages. If it's an industry trend, they'll even retool for another industry.
Will corporate taxes mean higher prices and/or lower wages? Possibly. But I haven't seen research showing this is certain. In fact, the chart above makes it seem profit margin isn't directly correlated to prices and wages.
My point was this is a much more nuanced topic than you care to indicate. Therefor, I truly hope THIS is the last time you remind us of your gross simplifications related to corporate taxes.