TRUDEAU WORRIES ABOUT 'IMPACTS' OF 'MALE CONSTRUCTION WORKERS' ON 'GENDER LENS'
5:00 PM 11/30/2018 | WORLD
David Krayden | Ottawa Bureau Chief
1386
​
Speaking to a panel
on gender equality at the G-20 summit in Buenos Aires, Argentina, Canadian Prime Minister Justine Trudeau expressed his deep concern about the "impacts" of male construction workers on the female population.
He also said, "Women entrepreneurs tend to make better choices than others — something we've seen in study after study." The "others" refer to men.
Canada's Prime Minister Justin Trudeau meets with steel workers from Stelco Hamilton Works, in Hamilton, Ontario, Canada, March 13, 2018. REUTERS/Mark Blinch/File Photo
Trudeau was telling the G-20 Business Leaders' Task Force how his government utilizes something called a "gender lens" to ensure equality of the sexes underlies all planning because "every government decision can have an impact on women in a positive or negative way."
Trudeau famously called out a woman at a town hall meeting for using the word "mankind" instead of "
people-kind
."
(RELATED: Trump Official Called Trudeau 'That Little Punk Kid Running Canada')
​
After saying his government is forcing companies to offer paternal leave for male employees as a way of ensuring women aren't rejected for jobs because they might get pregnant and take maternal leave, Trudeau said the "gender lens" is applicable to almost everything in government.
French President Emmanuel Macron (R) and Canadian Prime Minister Justin Trudeau (L) appaud as French minister of Ecology Nicolas Hulot (2ndR) and Canadian counterpart Catherine McKenna (2ndL) sign a ecology treaty at the Elysee Palace in Paris, France, Apr. 16, 2018. Ian Langsdon/Pool via Reuters.
He continued:
You might say, "What does a gender lens have to do with building this new highway or this new pipeline?" Well, there are impacts when you bring construction workers into a rural area — there are social impacts because they are mostly male construction workers. How are you adjusting or adapting to those [impacts]?​
Trudeau's words provoked an angry response from his political opponents. Quebec Member of Parliament and leader of the People's Party of Canada Maxime Bernier said Trudeau embodies the reason people should reject current feminist activism.

Maxime Bernier

✔@MaximeBernier
Note also what Trudeau says: "...because women entrepreneurs tend to make better choices than others."
Feminism used to mean equal rights for all.
Now it's a radical left-wing ideology trying to impose a new kind of discrimination.
That's why I'm not a feminist.
Maxime Bernier

✔@MaximeBernier

So, this is why Libs want to make it more difficult to build pipelines and other projects with C-69.

Why they will hire "gender studies" graduates inculcated with cultural Marxism nonsense to evaluate these projects.

And therefore kill major investments and 1000s of jobs. https://twitter.com/Canadabuster/status/1068213670834917376 …

1,873
10:36 AM - Nov 30, 2018
​
Official Opposition Conservative Deputy Leader Lisa Raitt wasn't too impressed with Trudeau's brand of feminism either.

Lisa Raitt

✔@lraitt
Listen to this clip. 2 things jump out - the PM believes that 1. Male construction workers going to a rural area has a negative social impact that must be studied 2. Women entrepreneurs make "better" decisions. You don't lift women up by tearing down men.
Canadabuster@Canadabuster

Trudeau in Argentina says there are "social" impacts of bringing male construction workers to rural areas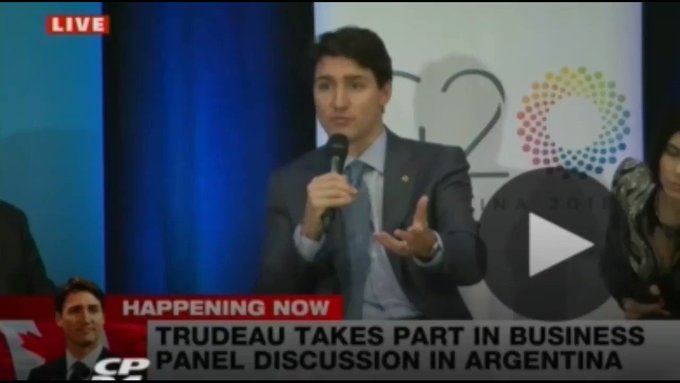 1,612
6:21 AM - Nov 30, 2018
​
Panel moderator Luis Alberto Moreno lauded Trudeau's contributions to the world, pointing to Trudeau and saying he "needs no introduction" because "there is no bigger champion on gender equality in the world today than Prime Minister Justin Trudeau and equally there's no bigger inspiration."
Trudeau was also on hand in Argentina for the
official signing
of the U.S.-Mexico-Canada Trade Agreement Friday's morning.