Jan 11, 2010
16,368
30,602
743
https://www.foxnews.com/us/massive-police-response-after-reports-of-shooting-at-california-nightclub
California bar shooting leaves 12 dead, including sheriff's sergeant, police say
Multiple fatalities in California bar shooting
Jonathan Hunt has the latest from Thousand Oaks, California.
Without saying a word, a mysterious man in black clutching a semi-automatic pistol opened fire on a California bar packed with college students celebrating "country night" Wednesday, the unidentified shooter claiming the lives of at least 11 patrons -- and a veteran sheriff's sergeant nearing retirement -- before the gunman was found dead.
Hundreds of people -- including students from California Lutheran University and private Christian school Pepperdine University -- were inside Borderline Bar & Grill in Thousand Oaks, Calif., for the country music event when shots suddenly rang out at about 11:20 p.m., Ventura County police said. Deputies and highway patrolmen arrived at the bar within minutes of receiving multiple 911 calls and began assessing the grim, gruesome situation, Sheriff Geoff Dean said during an early Thursday press conference.
"It is a horrific scene in there. There is blood everywhere," Dean said.
Sheriff's Sgt. Ron Helus, a veteran of 29 years, and a patrolman entered the bar after hearing more gunshots. When they went through the front door, Helus was struck multiple times by gunfire. The patrolmen rescued the deputy from the line of gunfire and he was taken to a local hospital, where he died early Thursday.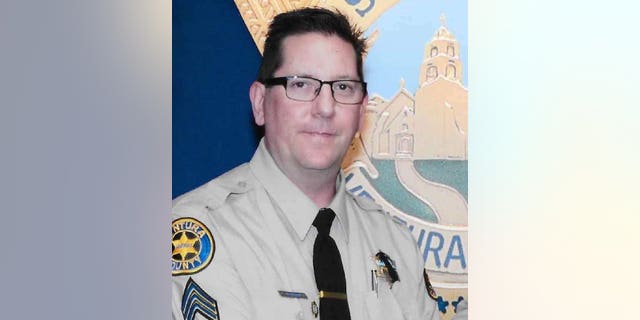 Sgt. Ron Helus was among the 12 people killed when a gunman opened fire inside Borderline Bar & Grill. (Ventura County Sheriff's Office)
Witnesses inside the country bar told local news outlets that patrons used chairs to break windows and hid in the bar's attic in between rounds of gunfire.
A woman said she was dancing at the bar when the gunfire broke out.
"It was really, really shocking…I never thought something like this would happen. But I kind of got my head in check really quick and I was like 'I need to get shelter. I need to make it out of here. I need to do something,'" she said.
The bar patron added that she didn't have time "to think about why this is happening," and just thought she needed to "get out."
The woman said she got a "pretty good look" of the gunman and described him wearing a ski mask-type item partially covering his face. She added that the shooter was wearing a black baseball cap and "dressed in almost all black." Several witnesses also told local news stations that a tall man clad all in black with a hood and his face partly covered first shot at a bouncer working the door, then opened fire, seemingly at random, at the people inside.
The female bar patron said the gunman "knew what he was doing."
"While I was inside I would say [I heard]…about a good 30 seconds [of gunshots]…he had two rounds that I know with him. He changed them within about six seconds, which was really fast," she recalled. "So he knew what he was doing and he also had perfect form. When I looked back he was spot on."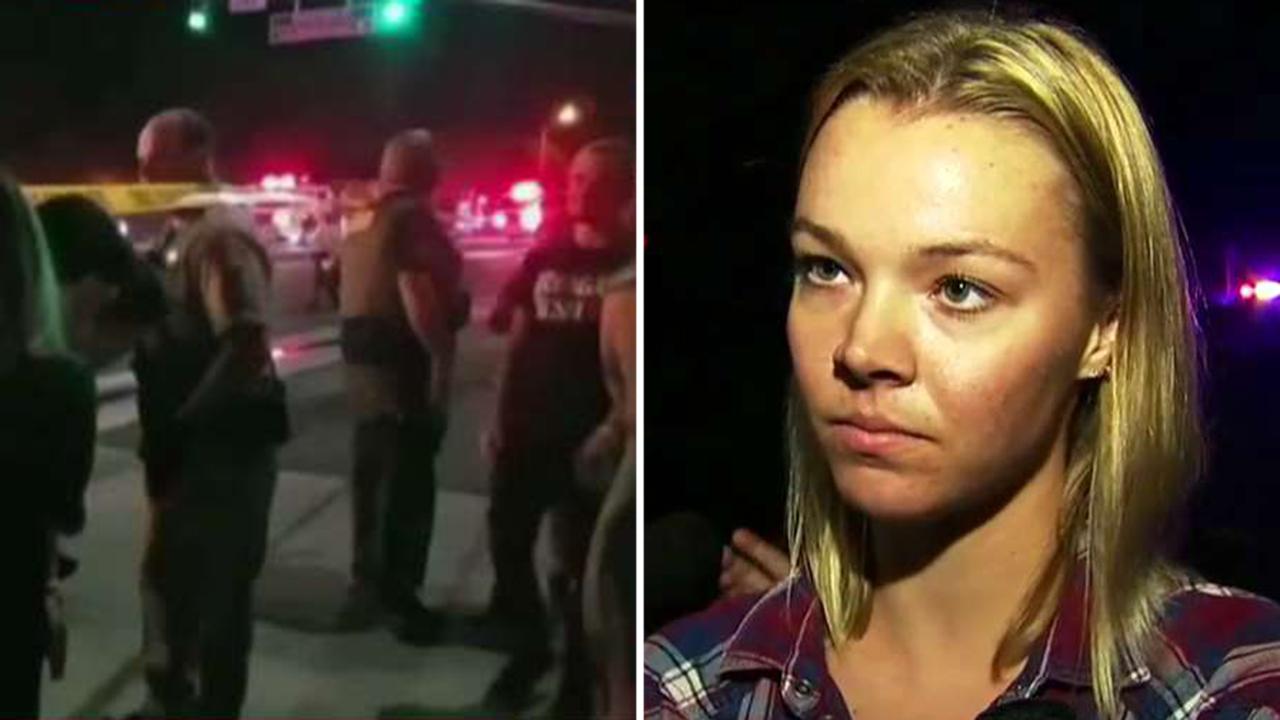 Video
"I knew it was live, knew it was real," a 56-year-old witness also told KABC-TV. "He [the gunman] didn't say anything at all. He just started shooting."
WITNESSES DESCRIBE CHAOTIC SCENE DURING THOUSAND OAKS SHOOTING
Police told the Los Angeles Times that at least 30 shots were fired and the gunman used smoke bombs. It was unclear what type of weapon the shooter used.
A witness told Fox News he saw the gunman use smoke grenades and continue firing shots. He said he heard some loud "pop, pop, pop."
LAS VEGAS SHOOTING SURVIVORS WERE INSIDE THOUSAND OAK BAR, FRIENDS SAY
Witnesses said many inside were college students from Pepperdine University, California State University Channel Islands and California Lutheran University. Some survivors of the Las Vegas mass shooting were also inside the bar.
Chandler Gunn, 23, of Newberry Park, called a friend who works at the Borderline Bar & Grill, who was also at Route 91 in Las Vegas,
The Los Angeles Times
reported.
"A lot of people in the Route 91 situation go here," he said, referring to the mass shooting last year in Las Vegas. "There's people that live a whole lifetime without seeing this, and then there's people that have seen it twice."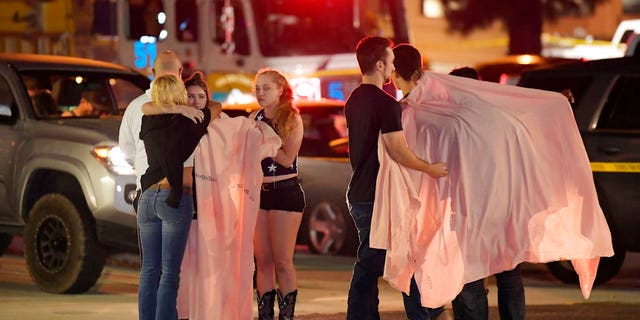 People comfort each other as they stand near the scene Thursday, Nov. 8, 2018, in Thousand Oaks, Calif. where a gunman opened fire Wednesday inside a country dance bar crowded with hundreds of people on "college night," wounding 11 people including a deputy who rushed to the scene. Ventura County sheriff's spokesman says gunman is dead inside the bar. (AP Photo/Mark J. Terrill) (AP)
Josh Coaly, 27, had been to Borderline several times with his friends, including one who also survived the Vegas shooting, The Times reported.
Coaly told the paper that his friend said he is with his dad and is in good condition.
Carl Edgar, 24, of Tarzana, told The Times he had about 20 friends inside the bar, which he frequently attends.
"As far as I know, all of my friends are OK, safe," he said. "There are a few people we can't get a hold of, but in these situations, people usually turn off their phones to be safe so I'm not gonna get too worried. A lot of my friends survived Route 91. If they survived that, they'll survive this."
Police said the shooter was dead inside the bar, although it was unclear how he died.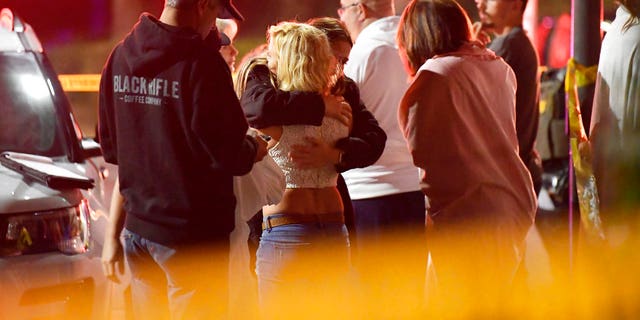 About a dozen heavily armed officers were seen lining up against a wall, appearing to prepare to storm the building. Medical workers were seen loading at least one victim onto a gurney, preparing him for transport. (AP)
Additional units from the California Highway Patrol, Simi Valley and the F.B.I. responded, police said.
Thousand Oaks is about 40 miles up the coast from Los Angeles.
Borderline Bar and Grill's event page states Wednesday night's "college country night" included dance lessons at 9:30 p.m. and 10:30 p.m. The bar, which opened in the late 1980s, is described as "Ventura County's largest country dance hall and live music venue."
"With over 2,500 square feet of wide-open dance floor, Borderline has provided a haven for country line dancing folks of all ages equipped with pool tables, games, HDTV's, and a full bar & dinner menu open till 2 a.m. 5 nights a week," the bar's
website
states.
Fox News' Amy Lieu and The Associated Press contributed to this report.
1